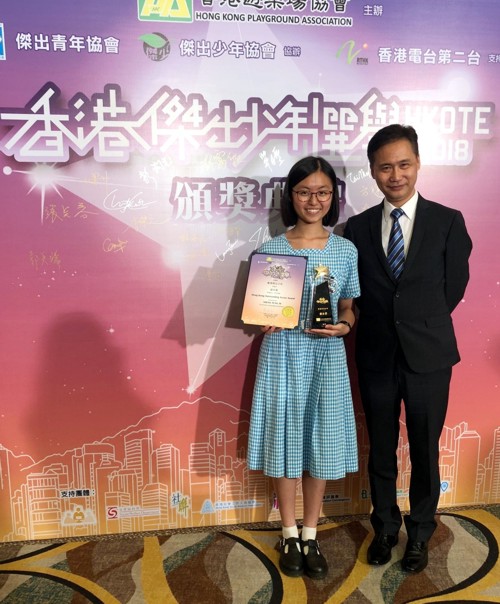 SHENG Yung-ai (S4D) takes a photo with Principal YUEN in the prize-giving ceremony.
Date: 25 June 2018

Student: SHENG Yung-ai (S4D)
This year, I was nominated by the school for the Outstanding Teens Election 2018, and was elected the Outstanding Teen in the Senior Personal Achievement category. The election is held every two years since 1998 and it aims at encouraging and recognizing the youth who have demonstrated their outstanding performance in different aspects, such as academics, leaderships and community services. In this yearˇ¦s election, 30 outstanding candidates were elected from over 500 nominees. These candidates all come from different schools and have lots of achievements in various areas. I am glad that my efforts have been recognized by my teachers and the panel judges. After becoming the Outstanding Teen, I can be the member of the Hong Kong Outstanding Teens Association and engage in more social services in the future to help people in need and care for the community. As more opportunities are given to me, I will keep striving my best to live my life and be an outstanding teen.