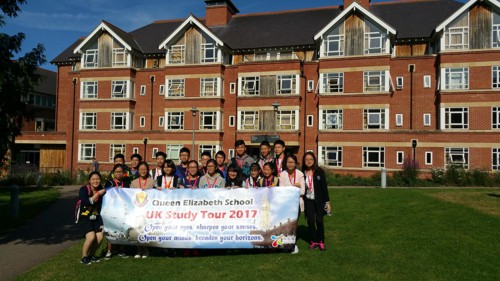 The campus of St.Edmund's College is comfortable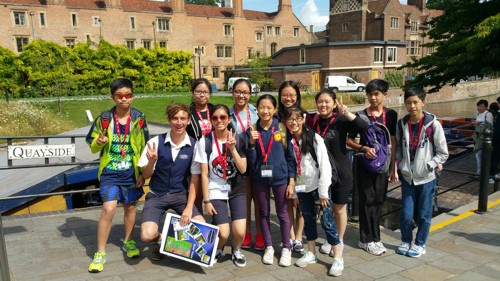 Punting is fun, especially with a humourous and knowledgeable punter!
Date: 2-15 July 2017
Venue: Cambridge, U.K.
By NGAN Siu-mei
The U.K. seemed dull to me before I went on this study tour. However, my experience in these 14 days was just like a sweet dream.
We stayed at St Edmund's College - one of the 31 colleges of the University of Cambridge and had wonderful lessons conducted by the teachers from Ardmore Language Schools. For outings, we went to Cambridge and London. Different from Hong Kong, the buildings there are not just buildings but pieces of art. It was simply breathtaking just looking at them!
Apart from the views, we have made friends with people all over the world such as the Brazilians, Israelis and Turks. I have learnt that the Israelis do not use books but laptops for lessons and the Brazilians have taught us ¡¥Oi¡¦ means ¡¥Hello¡¦ in Portuguese.
This is the best trip that I have ever joined in my life and how I wish I would never wake up from this sweet dream!
Great achievements everyone!
Date: 2-15 July 2017
Venue: Cambridge, U.K.
By WONG Sze-wan
The study tour to Cambridge was fantastic from the beginning till the end and I really enjoyed every second of the trip.
During the tour, we went to many places and experienced things that were brand new to me. We walked around the town of Cambridge and tried punting on the River Cam. There were two days we visited London. Every street and building is beautiful like an exquisite masterpiece. The place I love the most is the Harry Potter Studio. I like Harry Potter films and the studio made me feel that I had really entered the world of Harry Potter's as there were plenty of props, costumes and settings that were used in the films.
What's more, I have made a lot of Brazilian and Israeli friends. They are very enthusiastic and active and we got along very well. We had a great time together and I miss them a lot.
Last but not least, this study tour has given me an opportunity to travel abroad, to learn and experience local cultures and custom of Britain and to make new friends of different nationalities. These 14 days have been extremely memorable and amazing!