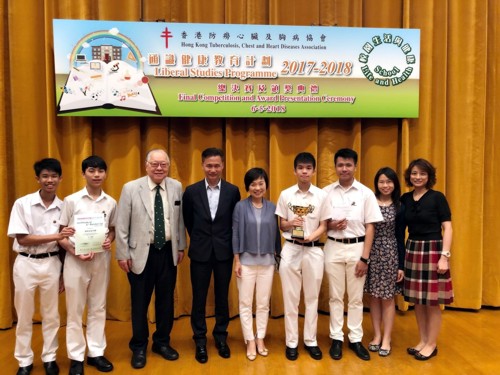 t
Our students are the 1st runner-up in the competition. They take a photo with the Chairman of Hong Kong Tuberculosis, Chest and Heart Disease Association, the Under Secretary for Education, our school principal and teachers.
Date: 6 May 2018
Venue: Hong Kong Central Library

Participants: KOO Lok-yin Jasper (S4B), SARE Yin-journ (S4B), CHAN Yun-him Anson (S4D), LAM Ka-chun (S4D)
Four Form 4 students have joined the Liberal Studies Programme 2017-2018 ¡§Healthy Lifestyle, Food Safety and Social Wellness¡¨, held by the Hong Kong Tuberculosis, Chest and Heart Diseases Association. The team got an outstanding result and was awarded the Second Prize among more than 60 teams.
This year the theme of the Programme is ¡§School Life and Health¡¨. It was held with the aim of raising concerns for healthy lifestyle and school life among the public. Each team is required to take up a research project relating to the theme, cumulate and innovate a project with a proposal and written report.
The team¡¦s enquiry topics was ¡§¡u­I¡v­t­«¥ô¡¨. The team investigated the issues of pressure-free school bags and protection on students¡¦ bodies. In mid-April, the team submitted the project abstract and delivered a presentation in the preliminary. On 6 May 2018, they presented in the final competition and attended the award presentation ceremony in the Hong Kong Central Library. The team won the Senior Form Second Prize. The team gained valuable experience and knowledge on how to do an independent enquiry and hope to apply what they have learnt to contribute to the Hong Kong society.