t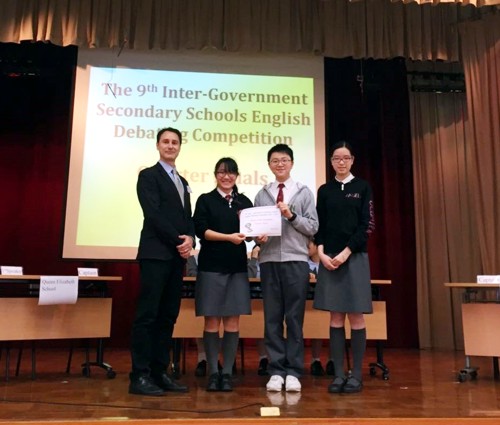 Our English Debating Team wins the Quarter Finals of the 9th Inter-GSS English Debating Competition on the 21 April 2018. The motion is ¡¥Housing should be a basic human right instead of a commercial commodity.¡¦ Queen Elizabeth School is on the affirmative and Belilios Public School plays on the opposition side.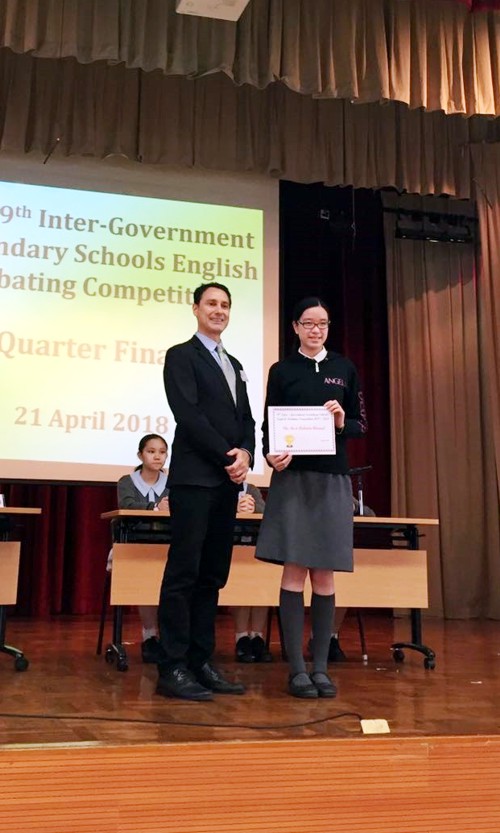 YIU Chi-yuet is the Captain of the team, LAU Kit-yu is the First Speaker and YEUNG Angelina Lenka is the Second Speaker. YIU Chi-yuet is also awarded the Best Debater
Date: 21 April 2018
Venue: Lung Cheung Government Secondary School
Students: YIU Chi-yuet(S5B), LAU Kit-yu(S3B) , YEUNG Angelina Lenka(S3B)
Written by: LAU Kit-yu (S3B)
On 21 April 2018, I participated in the Quarter Finals of the 9th Inter-GSS English Debating Competition.
I think debate is a good way to develop my speaking and critical thinking skills. The preparation for the debate was well guided and developed under the help of our coach, Mrs. Calver. Although we were a little nervous and stressed, especially me, as I am not experienced, we won the debate by having concrete points supported with abundant examples and statistics. We were not calm enough at the beginning but with the useful tips given by Mrs. Calver, we managed to deliver strong rebuttals. Moreover, I am glad that the adjudicators told me that I am passionate and I did a great job in linking my rebuttals and our case.
Debate is a great experience to learn from the strength of the opponents and our own weaknesses. For example, I have learnt how to show confidence through eye contact and gestures and improve clarity and organization by stating the main points followed by elaboration and examples.
I enjoy debating a lot as we can share our ideas and convince the others with our arguments. I am grateful to be given the opportunity to try debating. Last but not least, I hope I can make improvements and take part in more debates in the future.